Hawkins Construction recently hired a mobile coffee van and "shouted" morning tea for the staff at Wilco Precast in appreciation of the quality and timely delivery of geometrically difficult precast façade panels used in the Merchant Quarter project at New Lynn.
Hawkins Construction Manager, Robert Hodgkinson, commented that:
"In winning this contract one of the top five risks that we identified was achieving the timely procurement of the precast façade. If the panels were late or the complex geometry of the panels not exact then the critical path for the project would be delayed." He also said: "The whole process has gone remarkably smoothly and the quality is stunning; the client and consultant team have also commented about the high quality of the precast panels. The architect and structural engineer have remarked how well the shop drawing process went and complimented Wilco on their friendly manner in working through revisions and solving many mind-challenging geometrical issues".
Architects: Jasmax.
Structural Engineers: BGT.
Construction company: Hawkins.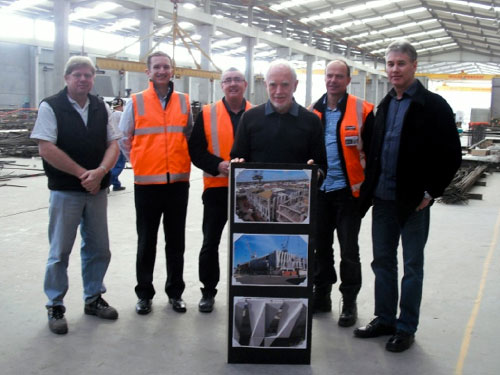 Photo: (from left) Lynton Ivins, Wilco Senior Draftsman; Matthew Walls, BECA Project Manager; Andrew Sinclair, Wilco Managing Director; Robert Hodgkinson, Hawkins Construction Manager; Steve Ritchie, Hawkins Regional Operations Manager; Colin Beavis (foreground), Wilco Contracts Manager.